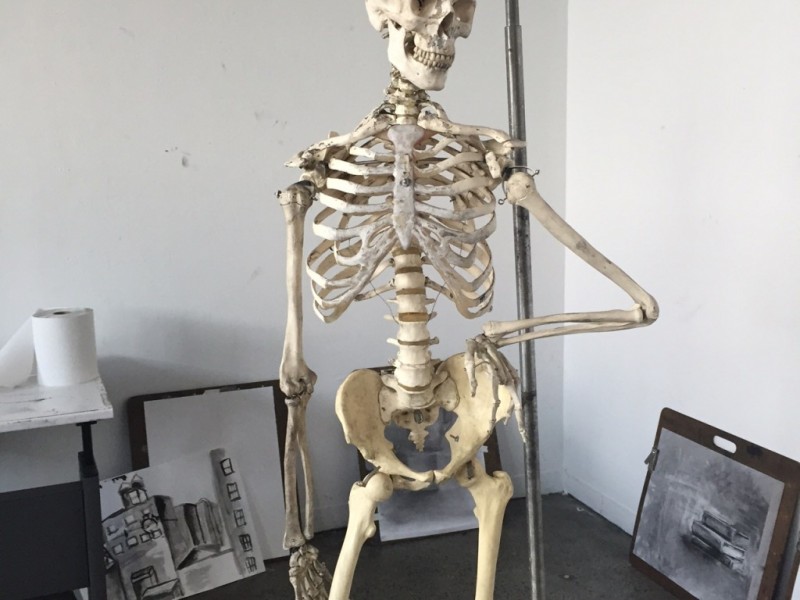 As the summer following the junior year of high school was approaching, us juniors, began to worry. College was always on our mind, and we knew that this summer mattered more than any other before.
This was the summer to really prove to the world that we weren't potatoes that stayed at home, clinging to our computer screens and avoiding daylight. We needed to prove that we had drive, vision and a desire to better ourselves and the world around us. Or, at least that's what most college brochures describe as their "ideal students".
I had a plan for the summer. A bit unusual one. Some may say foolish. Instead of doing a proper acting intensive as usual, I chose to focus on visual arts, music and film-making. The day I got my acceptance letter to the Cooper Union Summer Pre-College Art Program, I screamed with joy. It wasn't a program that I chose because "it would look good for college", no, rather it was something that seemed awesome, something I had wanted to do for a while!
The fact that it kept me from becoming a cyber addicted omnivorous vampire was just another plus. As a drama major at my school, drawing is not something I really get to do everyday. In fact, as much as I love drawing on my own, there haven't been any "formal" art classes in any of my schools since 7th grade. Cooper was a place that I knew would provide a vigorous education in fine arts and an amazing studio to learn in. I wasn't wrong!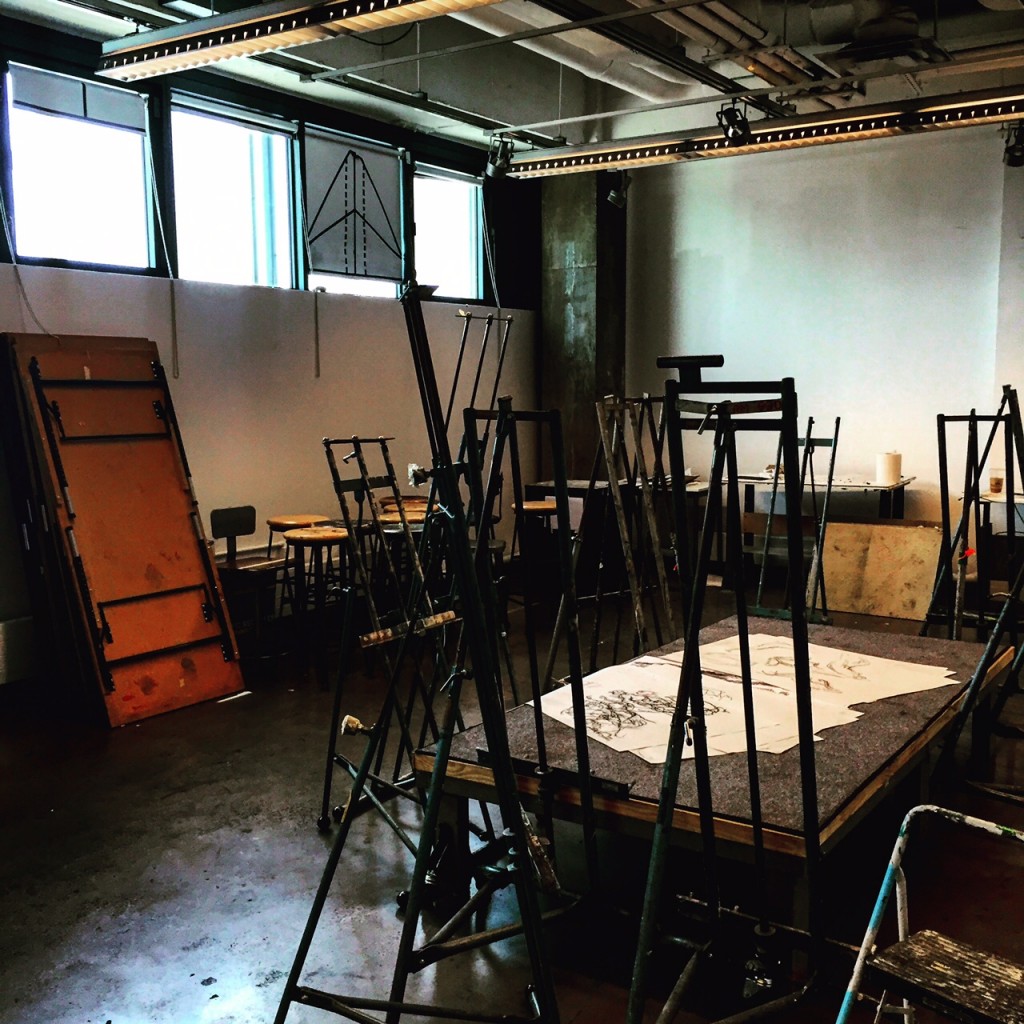 I went into the program more with learning in mind than making friends. I've been drawing as much as I could since I was born, and I'll always look at my dad as the ultimate art teacher. He's an incredible self-taught artist, and he had encouraged me to keep at art,  and only providing me with one lesson, repeated over and over again for the past seventeen years. That lesson – more like motto at this point – is "draw what you see". Just that. Nothing else is necessary when it comes to art.
Just draw what you see. So I kept that in mind entering the Cooper studio on the first day. It was the biggest and nicest studio I had ever been given the opportunity to draw in. As my new classmates and I all awkwardly stood in a circle, teetering back and forth on our feet, eyeing the easels and charcoal all around us, we were simply given an instruction and told to complete it.
The instructors didn't break the ice, or play a name game, or even ASK us what our names were. We were just told to draw an egg and shade it in using charcoal. Now, I had entered thinking that the fact that I had never taken a proper drawing class before wouldn't cripple me in any way. After all, I thought I could draw. Boy, was I wrong. Upon  taking a piece of charcoal, I looked over and saw that almost everyone else was already done with their egg, and they were done beautifully. I looked down at my paper and cursed a little bit. Quickly drawing something and then handing it in. It wasn't awesome to find out that our teacher had decided to hang our first pieces up.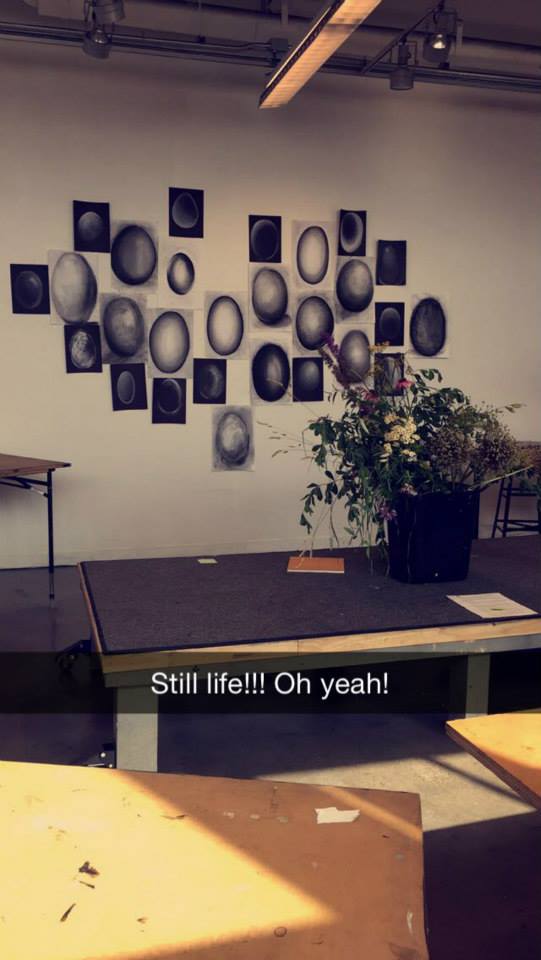 When I found that out I cursed a little louder. The kid standing next to me gave me a look. The day continued in this fashion, and at the end we were told to pair up and draw one another. I breathed a sigh of relief, draw a face? I could do that! It's just "drawing what you see"! I was paired up with a kid who worked very quickly, and was extremely talented. We were told to draw with charcoal on an easel. Something I wasn't very accustomed to.
Charcoal? Sure, I could manage that. Easel? Don't work on one very often, but we could make it work. Both at the same time? Hell no, charcoal is powder! How is it supposed to look right on something almost vertical? The logistics just didn't make sense to me.
Nevertheless we all began to work, and some kids even produced pieces that I would consider masterpieces. As we worked the room was silent. I cannot stress this enough. Not silent like "mostly quiet, but every now and then you hear someone's feet shifting" NO. I mean totally, completely – people who live in the woods to avoid humanity would love this volume – silent. It was insanely quiet, and for some reason, that made it easier to hear my thoughts. They screamed and panicked like a librarian at a rock concert. It wasn't awesome. Especially since the performing arts school that I go to doesn't understand any volume lower than a "volcano erupting".
The "best" part was, when I looked down at my picture I was completely humiliated. New levels of humiliation have been reached. The boy I drew, had a wonderful face, but what was on my paper looked closer to a fist than anything. Yup, I had successfully turned a face into a fist. When the boy looked at my "finished" drawing he grimaced and cautiously said "Wow, you made me look Egyptian". An Egyptian fist. Wonderful. What was next in my series of portraits? A Hungarian knee? A Kenyan shoulder?
Drawing was becoming the hardest thing in the world (that world included Egypt). To make matters worse, our teacher told us to line up our pictures against the wall, so that we all could get a chance to see each other's work. I hid mine in the corner, hoping that it could look like I was deeply observing the picture next to mine while my body would cover any view of my portrait. That failed. The teacher pointed at mine, sighed and then muttered "interesting". "Interesting" and "special" were of the same caliber when it came to descriptive words. I shook my head with dismay. This really wasn't turning into what I'd hoped it would.
At 3pm, our teacher told us that she was going to leave and that her TA would be taking over for the last hour. The TA got us all into a circle and FINALLY asked us our names. He then asked us to state an interesting fact about ourselves. This sounded exciting. When it was my turn I opened my mouth to "share my fact", but all that came out was a croak. Because we had been so silent all day – literally not speaking for hours – it seemed that my voice had decided to hibernate. Glorious. I thought I'd play it off by telling a joke. God only knows why that seemed like a good idea in the moment, I told my joke and the silence was EVEN MORE SILENT THAN BEFORE. I didn't believe that was possible. Humiliation seemed to be my middle name. And that was my first day at The Cooper Union Summer Drawing Program.
Quite the day.