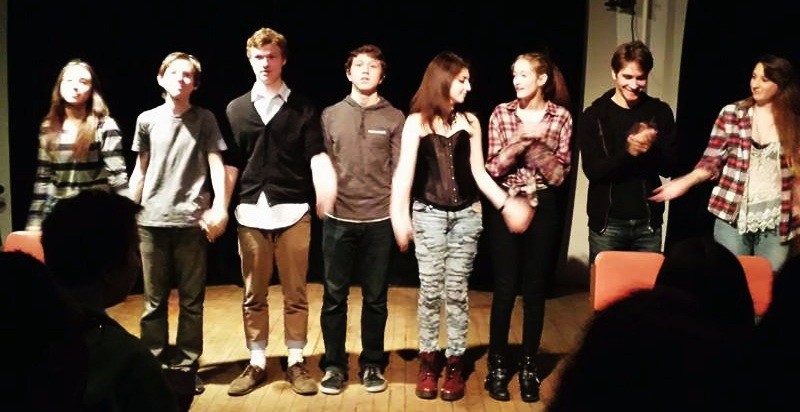 "Ooh I feel so good, like I knew that I would! Ooh, I, feel, so, good!" The chant rang through our ears, out of our mouths and bounced in our minds.
The opening night! We'd struggled through so many obstacles, but we were finally here! I looked around at the cast: we were a ragtag team of high school seniors, juniors and sophomores. We all cramped together backstage. Our "backstage" was, in fact, a tiny hallway (tiny in every sense of the word – the ceiling sat on our heads and the walls were millimeters away from swallowing us) with chipping paint and a floor that would only stay silent if one could fly. But we'd made it, entirely on our own! We'd put together an entire student run production of "Dog Sees God!"
Now, the play itself was written by Bert. V. Royal, and it's essentially a sequel to the Charlie Brown chronicles. For any hardcore Peanuts fan, Dog Sees God offers an unexpected twist. It is the play that can only be seen when a child has grown out of their golden daze and is ready to strap on the backpack of burden that comes with adulthood. It includes sexual innuendos, illegal drug related innuendos, death related innuendos, and a whole lot of straight up swearing. Oh yes, and don't forget pyromania!
To say it was fun to perform would be an understatement. My character was, in fact, going through an identity crisis and at the moment was sporting the attire of a gothic princess. She also goes through every expected step of "trying to find herself" (a nod toward the list of innuendos I named above.)
…
It all began on a rainy day during the fall semester of my sophomore year, when the clouds blanketed the sky and angrily shunned the sun. Rain poured down in buckets, and the only thing I desired was pizza. So, a friend and I made our way down to the local pizza joint and picked up a slice or two. Or three. And while we were there, we bumped into an upperclassman, Logan. I had heard through the school grapevine that he was supposed be holding auditions for the student run production of Dog Sees God that he would be directing. But the all-knowing grapevine also announced that he had already cast every role. No auditions. Maybe it was the rain in my shoes. Maybe it was the confidence that came with holding a slice of pizza, but I began to give him a piece of my mind. The onslaught of colorful phrases was directed at him about how unfair it was to not even give us a chance to prove our worth, and how excited I had been at the idea of the play, and how I now hated him for not letting me to try out. Yup. "Hated him". Professional, right? He let me finish and then looked at me pondering, and said "Well, there is one more character I still need to cast." I took the bait. He told me what character I'd be auditioning for and said that I needed to prepare a monologue before school ended that day. I did it! I got the part, I was to play "CB's sister"! Life was getting exciting!
But there was one complication: at the time, I was also cast in a school play, and our director had us all rehearsing until 8 daily. So every day, after the school rehearsals were done, a friend – who was playing CB in Dog Sees God and also had a part in the school play – and I, journeyed twelve blocks in the snow to Logan's apartment, where he was having rehearsals for Dog Sees God. We rehearsed at his house until ten thirty. Eleven on some nights. The life felt full and glorious!
…
The opening night of Dog Sees God emphasized the differences between the two types of people in the cast.  The first: calm, serene, collected. The second: OH MY GOD, DID I EVEN MEMORIZE THE PLAY? MY MIND IS BLANK, AND I DON'T REMEMBER WHAT HANDS ARE, LET ALONE HOW TO ACT WITH THEM. I may or may not have been in the second category. Despite this, when I walked on stage, and the lights shone down, and all I heard was the muffled shifting of feet and suppressed clearing of throats, my mind went blank (in a good way :)) and there simply was no place for stressful thoughts. I looked into my scene partner's eyes and that's all there was. I was in a different world. Not reality, not a dream, somewhere in between. And I was ready.