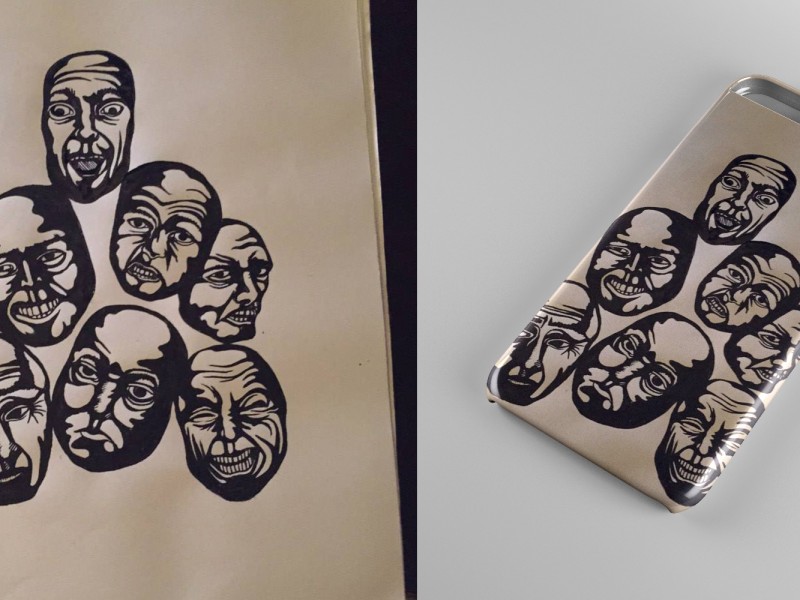 The Splattered Egg Law powers me through life. When the smooth surface of an egg splits open, releasing a golden yolk, there's no way to put the shards of shell back together, yolk intact. We all know it, you can't reverse an omelet or a sunny side up, once breakfast is made, you've got to eat it.
The same pertains to life. Right? Once you've failed a test or gone on vacation there's no way to reverse time and go back to a time where you didn't see a giant red "F" on your paper, or you didn't have jellyfish stings covering your legs. What's done is done.
So the beginning of every story is the most pure and untouched part. The shell of the story has not been cracked open yet.
My omelet begins on a rainy night almost three years ago. I had recently strung unusually powerful Christmas lights and they illuminated my entire room as I drew with a jumbo sharpie on a piece of copier paper. I was designing a phone case. Eventually the copier paper would be scanned, and I'd scale it down and retouch so that the design could fit cleanly on an iPhone case (for an iPhone 4 at the time).
People at school had been saying that they wished they could have a phone case with one of my drawings on it. With a grin, I'd nod and proclaim that it was my new mission to create original phone cases, sell them, and by doing so – to start a small art-driven business.
Oh boy, had I bitten off more than I could chew. The production expenses were far surmounting the revenue, and when I say surmounting, I mean by 150%, at least at first. I had asked the kids at my school how much money they'd be willing (or able) to spend on my case and their verdict was $20, at most.
It was the beginning of my sophomore year of high school, and the idea of running a small art shop, using something I created by hand (to some degree) was something I couldn't get out of my head. Designing and selling original phone cases seemed to fit all too well.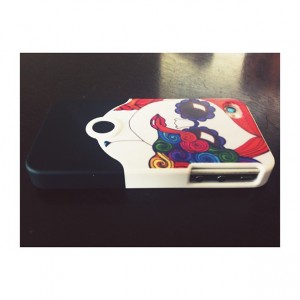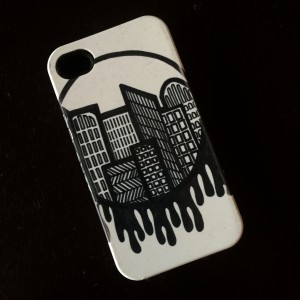 At first.
With each sold phone case the scale tipped closer to broke-ness. I thought I'd be able to raise the prices later in the game to cover initial losses. But the reality was proving me wrong. I didn't have a financial base to keep me afloat long enough. All award money I saved from winning a few competitions and now spent on manufacturing, was running dry and selling the phone cases began to feel more and more like I was wading through molasses. It wasn't getting easier to say the least.
Eventually it was time to call it quits. There I sat, in the center of my room, shrink wrapped phone cases dramatically strung on the floor around me, accounting for the fact that after six months I'd only been able to sell forty of them, and didn't even break even.
I'm not a quitter, I just didn't know how to do what I'd wanted to do. I knew that with a couple more years of experience and experiments I'd be able to figure out how to run a business.
All I needed was time to learn.
And here I was, learning.
I've learned that to begin the art shop that I so strongly desired, I'd need to actually figure out costs and investments. Run balances. This is something I'd have to dedicate a sizable fraction of my effort to, not skim over and hope for the best as I had with most other monumental decisions in my life. Not only time and creativity would need to be invested, but real money. It wasn't going to be an easy feat. I was a sophomore who produced expensive hand made cases with no selling strategy to back me up. Not the ideal business plan. Especially after lost all money I had.
As the Splattered Egg Law states, once an egg has been cracked open, there's no way you can go and scoop up the remains, piecing the thing back together again. We've all learned this, one way or another. I'd learned that through my failed phone case business.
But the more eggs in the omelet, the more flavor it obtains. I learned it the hard way, but I learned.
These phone cases were just the beginning.
Fast forward two years and, again, you can see me sitting on that same floor I once sat surrounded by bubble wrap and plastic phone covers – but now, I'm coordinating the team and contributors, editing stories and preparing interviews – placing the puzzle pieces of my online network together. EX LOCUM is my business. Its currency is support.
EX LOCUM is my sunny side up.