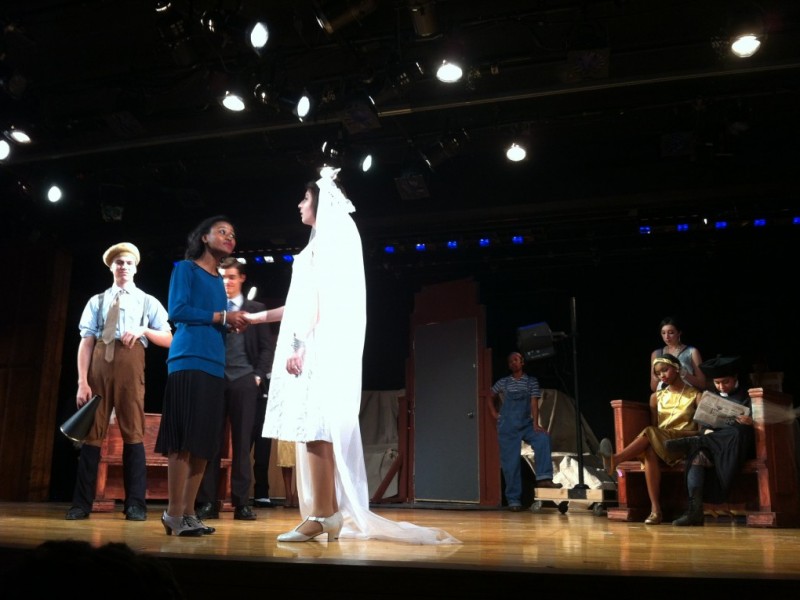 We were rising Drama 3s, and we had our whole junior year of high school ahead of us. We had been given the script of the play by Moss Hart and George S. Kaufman, and told that auditions would be held on the second week of school.
Waterwell – the theatrical company that runs our drama department – invited an outside director, Wes Grantom, to do our production of "Once in a Lifetime".
None of us had ever heard of this play before, but we had Google! After a bit of research, we settled for top two adjectives to describe the play – "comedic" and "vaudeville", which couldn't be bad, right? May Daniels, the female lead truly appealed to me. She was headstrong, feisty, and had some witty lines… I knew I wanted to be given the chance to portray her!
On the audition day, we all waited in the green room. My heart was racing as usual while I was leaning against the white brick wall looking at the ceiling, and repeating May's lines over and over.
Finally, it was my turn. I got up, tripped (as usual) and walked on stage. Every step left a gigantic creek in the air. I slated and then performed one of May's monologues. The director and stage manager just stared at me, with their fingers on their lips, and  after a whale sized silence, they asked me to read for "Susan". Susan? Isn't she this little silly girl from the middle of nowhere? I had been so focused on May's character that I didn't pay enough attention to other female parts. Damn. Big mistake! So they handed me the script and asked me to come back when they called me again. I curtsied (why?) and walked off the stage.
Back in the green room, I looked over the monologue in my hands and quickly Googled Susan's character traits. Among the first three to come up were: proverbial dumb blonde, air head and "cute". I chuckled, this was going to be fun. Especially considering that I am a dark-haired cynisist.
Once called, I got back on stage and gave Susan's monologue my all. They continued to stare at me with their fingers on their lips, then asked me to do it again, but this time as if I never had an acting lesson in my life. So I figured, what the hell? Let's get some jazz dancing in there. Seemed to go well with this "Boots" nonsense. I began to speak in a much higher register than ever before, and in the end, slid on the floor with my hands jazzing… My eyes tightly shut themselves, readying for the onslaught of criticism.
When I opened my eyes, I saw them laughing and clapping. Okay. That happened. They said that I was done for the day. I blinked, did that mean they liked me, or that they had never seen anything more horrible and now couldn't wait to tweet about it? Bewilderedly, I headed home.
A couple days later the cast list went up. I searched for my name and saw it sitting right next to the name "Susan". Okay! Should I be doing jazz hands at the acting auditions more frequently?
Soon after, the readings began and I had never had a better time. My best friend was cast as my mother. Susan was a ridiculously hilarious part to play, and we were allowed to eat gummy bears while rehearsing. This was the life!